2014 Subaru Forester vs 2014 Honda CR-V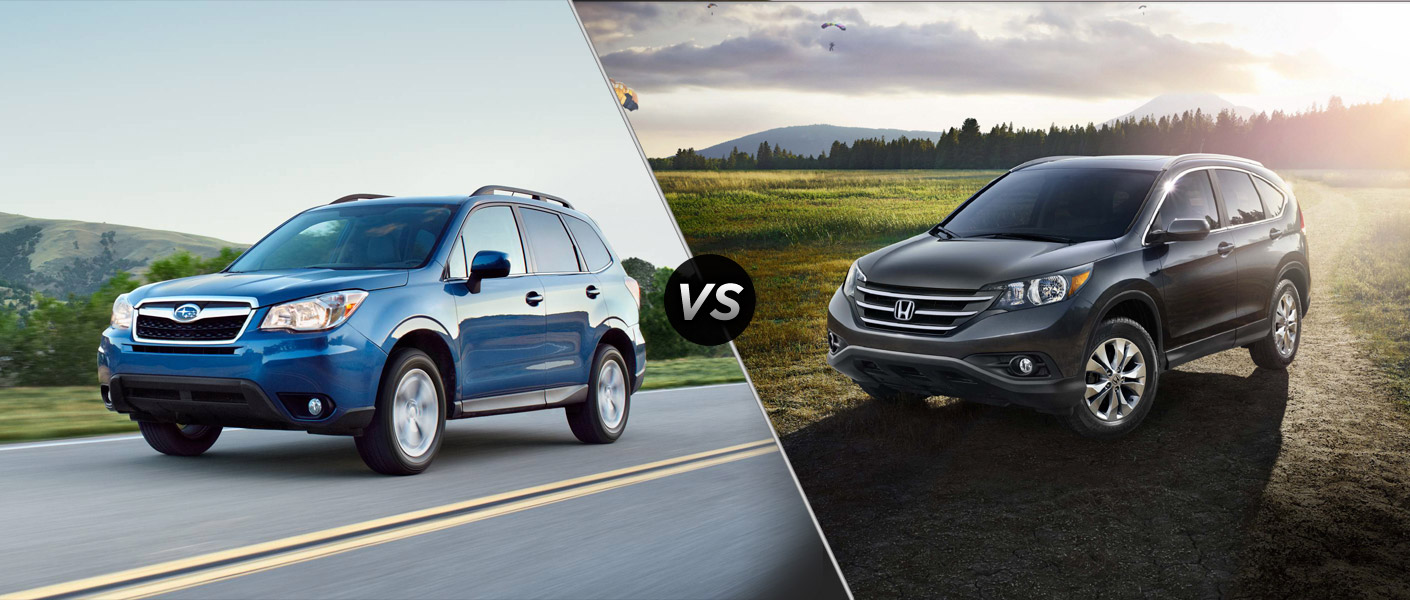 | | | |
| --- | --- | --- |
| 2014 Subaru Forester | | 2014 Honda CR-V |
| 32 MPG | Highway Fuel Economy | 31 MPG |
| Yes | Continuously Variable-speed Automatic | No |
| Yes | Motor Trend's 2014 Sport/Utility of the Year | No |
| $21,995 | MSRP | $22,945 |
2014 Subaru Forester vs 2014 Honda CR-V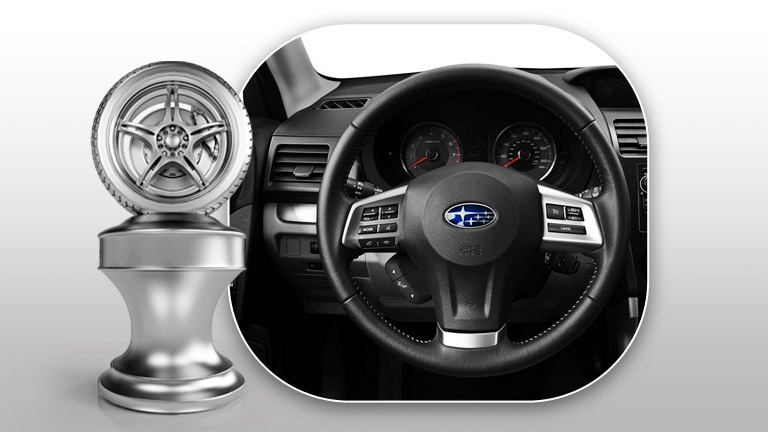 Last year, both the Subaru Forester and Honda CR-V were IIHS Top Safety Picks, and in 2014 each CUV has proven itself worthy in relation to highway fuel economy and affordability. Yet this year, the 2014 Subaru Forester, when compared to the 2014 Honda CR-V, has rightfully been awarded Motor Trend's 2014 Sport/Utility of the year and pushed the limits further than any of its competitors.
The 2014 Subaru Forester comes standard with a 2.5 L Flat 4-cylinder. All wheel drive models are available in either a 6-speed manual or a continuously variable-speed automatic which generates a seamless ride while transitioning through gears. Although the ride is not quite as smooth, the 2014 Honda CR-V standard models offer a 5-speed automatic in either front wheel drive or all wheel drive.
All standard 2014 Subarau Foresters are built with a Subaru Boxer engine, creating a low center of gravity and increasing responsiveness. Also, by sitting lower in the frame, the vehicle drives under the frame in a front-end collision which in turn protects the passenger area. As for those who need a CUV that can haul without failure, the 250-HP Subarau Boxer engine is available to add the extra desired power. The 2014 Honda CR-V's most powerful and efficient engine is not as powerful as the Forester's, but it does have the potential to reach 185hp and 162lb-ft of torque.
Greener environment and wallet with the 2014 Subaru Forester
Subarus in general are built to last. Buying a new car is pricey, but manageable if that vehicle lasts for years to come. 96% of Subaru vehicles, the Forester included, purchased within the past 10 years are still on the roads today. Nature-minded, the creators of the 2014 Forester, took extra precautions in lowering emissions to nearly zero. Subaru can proudly say that all of their vehicles are built in zero-landfill plants, and since 2004, not one single bit of waste has been sent to a landfill.
The 2014 Honda CR-V has also taken a greener approach, creating the Eco Assist, forming a mutual relationship between the driver and vehicle. With a push of the green ECON button, the CR-V will arrange its engine and other energy-consuming systems to more effectively function. Eco Assist additionally includes a feedback system to inform whether or not you are driving to the full efficiency potential.